The Project Management Office tool for lean processes and full project success
MSO's PMO tool was developed on the basis of years of consulting and software development for PMOs that deal with strategic projects as well as projects or programs with effect controlling and other special projects. MSO's PMO tool supports the strategic and controlling function of the PMO as well as the operative project management of project managers and the implementation of work packages and tasks by project staff.

By providing different project management standards, processes and policies for different types of projects in a single tool, MSO's PMO tool promotes central coordination and control of all projects and resources – contributing significantly to the overall effectiveness and efficiency of the entire project management.
Das Project-Management-Office-Tool
für schlanke Prozesse und vollen Projekterfolg
Das PMO-Tool von MSO wurde auf Basis jahrelanger Beratung und Softwareentwicklung für PMOs entwickelt, die sich sowohl mit strategischen Projekten als auch mit Projekten oder Programmen mit Effektcontrolling sowie sonstigen Sonderprojekten beschäftigen. Die PMO-Software von MSO unterstützt sowohl die strategische und steuernde Funktion als auch die operative Projektsteuerung der Projektleiter und die Umsetzung der Arbeitspakete und Tasks durch die Projektmitarbeiter.
Durch die Bereitstellung von unterschiedlichen Projektmanagement-Standards, -Prozessen sowie -Richtlinien für unterschiedliche Arten von Projekten in einem Tool fördert das PMO-Feature von MSO die zentrale Koordination sowie die Steuerung sämtlicher Projekte und Ressourcen – und trägt so wesentlich zu einer allgemeinen Effektivitäts- und Effizienzsteigerung im gesamten Projektmanagement bei.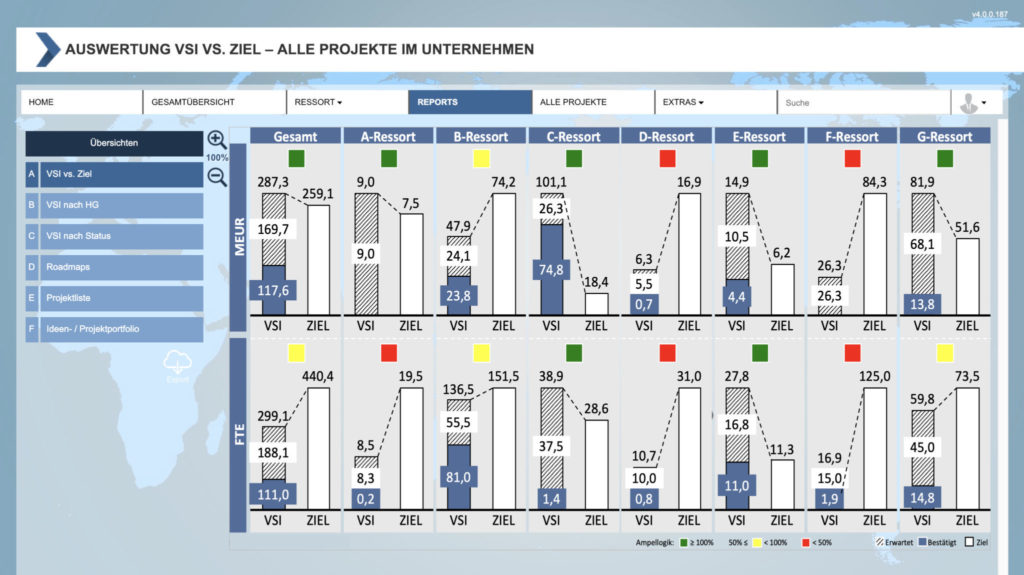 Definition, benefits and types of the PMO
The Project Management Office is the central unit for controlling project management and maintaining the project management system. A PMO promotes or supports the development of methods, processes, tools, templates, multi-project reporting, project management and project portfolio management.de

But in order to be able to use the potentials of the PMO at all, the individuality of companies plays a pivotal role: not only the specific range of tasks, but also the organizational culture, structure and development of the respective company are decisive for the actual development of the Project Management Office.

In addition, there are three main types or categories of the PMO that set different priorities:
A strategically oriented PMO develops guidelines and cross-departmental standards, tools and methods for the project management of a company.

The term "strategic" in the context of PMO thus symptomatically stands for a high degree of standardization and the continuous further development of the entire project management with regard to leaner processes and more flexibility.

The trick is to support every type of project, while at the same time creating scope for specific, efficient and effective project management and ensuring overall planning, control and evaluation.
2. The project-controlling PMO
The controlling Project Management Office takes over the controlling for all projects and checks them with regard to interactions, dependencies, target achievement, risk development, adherence to schedules, quality and costs.
In particular, projects that require additional support are recognized as such in good time. The same also applies to errors that occur, for example, in project management, communication or resource planning: these are recorded early so that they can be rectified (where applicable, in due time).
3. The project-supporting PMO
The main task of supporting or operational PMOs is, on the one hand, to control all projects taking into account all interactions and, on the other hand, to coordinate individual sub-projects.

The aim is to achieve the respective project objectives. The possibilities of influence or support by the PMO relate to optimizing resource allocation, streamlining processes in the project, reducing administrative effort, optimizing the application of project management methods and finally coaching employees.
Lean – intuitive – web-based
Advantages of a Project Management Office
Companies with a Project Management Office have more success in the project business. Numerous studies confirm this: PMO helps, among other things, to avoid duplication of work, to increase reliability in achieving project goals, to promote organizational development (growth) and much more:
Introduction of the PMO-Tool by MSO
MSO supports its customers in the technical implementation of a PMO tool in four essential steps. We focus on maximum transparency and close involvement of all stakeholders – from external consultants and management to each individual employee. Only if every level is involved in the process from the outset can the PMO tool be anchored throughout the company in the long term.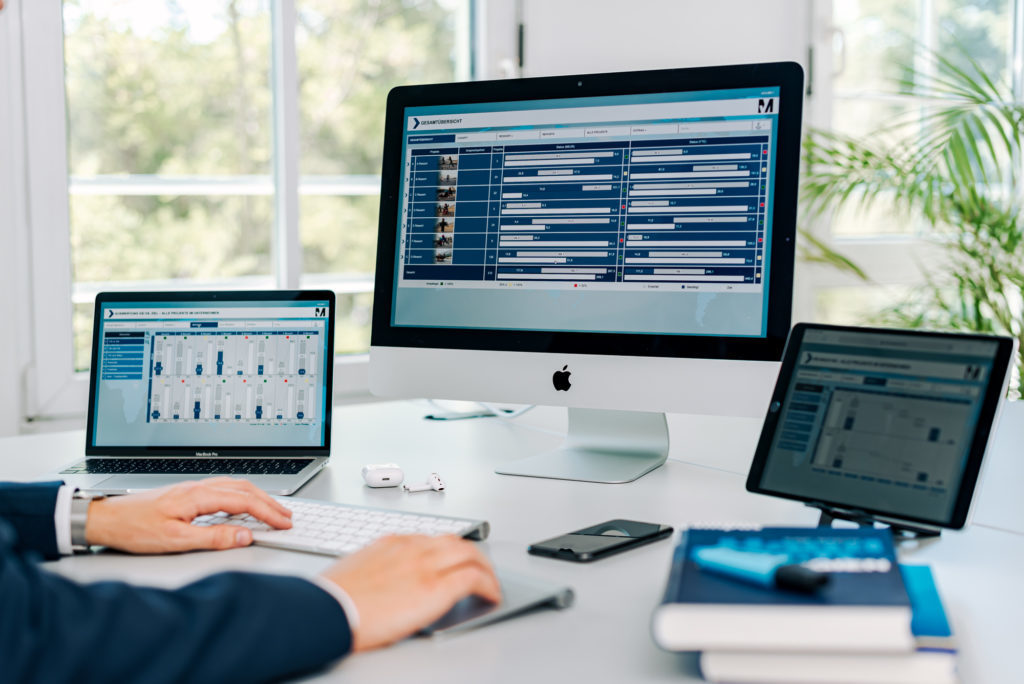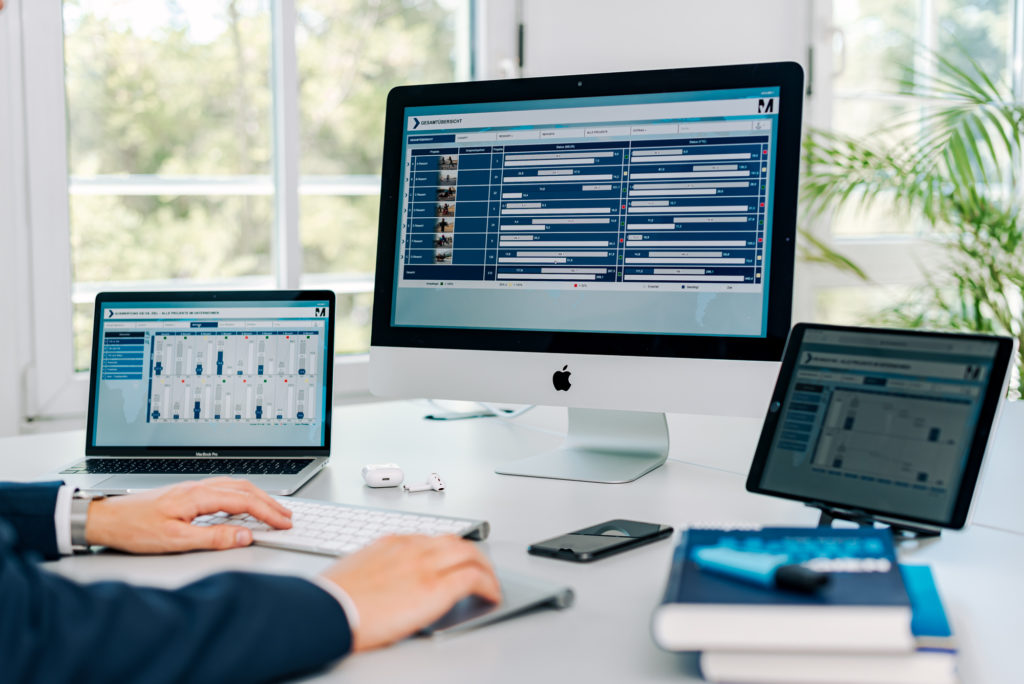 Step 1: As-is analysis (customer)
Step 2: Conceptual design (MSO & customer)
Step 3: Implementation (MSO & customer)
Step 4: Training (MSO & customer)
Conclusion: PMO as engine of agile methods
If duplicate work is avoided, project goals are achieved efficiently and reliably and growth and sales of the organization are increased, then at least three positive effects – especially for the employees of a company – will result:
The motivation of the employees increases.
The ability and speed to react to changes increases.
The ability to work in a team increases.
These are roughly the goals that organizations hope to achieve with "agility in project management". Reduced to the core, "agile working" means exactly that: the ability (or even the possibility) to react flexibly in an environment of self-responsible teamwork. The PMO tool by MSO supports the path to achieve these goals.