transparent - measurable - effective
Find new and effective ways
for more engagement and goal-oriented work with the OKR tool
The OKR-Tool by MSO is a management software that can be used as a framework for setting objectives and measuring outcome figures. It helps managers as well as employees to focus on the essentials: the achievement of jointly set goals.
At the same time, the OKR tool offers a project plan that ensures a demand-oriented overview of organizational priorities and advances – and makes this visible to every authorized employee in the company. The documentation of progress and regular reporting creates a learning process that successively brings companies closer to their visionary goals.

Thus the OKR-Tool by MSO shows a simple way to more performance and agility.
OKR stands for "Objectives and Key Results". This is a management method invented by Intel co-founder Andy Grove. OKR is therefore a framework for objectives and the measurement of key results. For a more detailed explanation: Objectives describe the goals that a company wants to achieve – Key Results define the ways in which companies get there.
The successful use of Objectives and Key Results (OKR) depends on the involvement of all teams and individuals in the company's objectives. It is important to assign various key results to each goal, which can also be measured. In this way, successes can be reviewed at regular intervals and new OKR defined. Thus a concrete vision is created – step by step.
What is decisive is that an OKR tool is not used to measure performance. Rather, it should point the way, motivate and orient.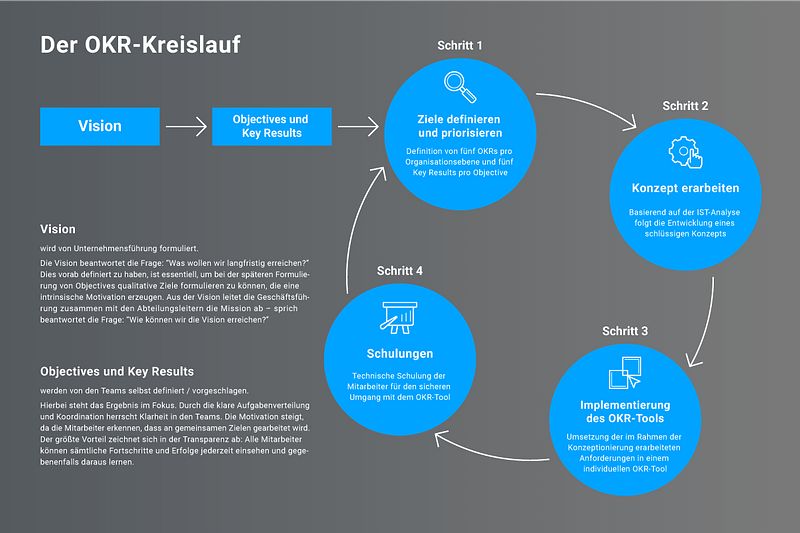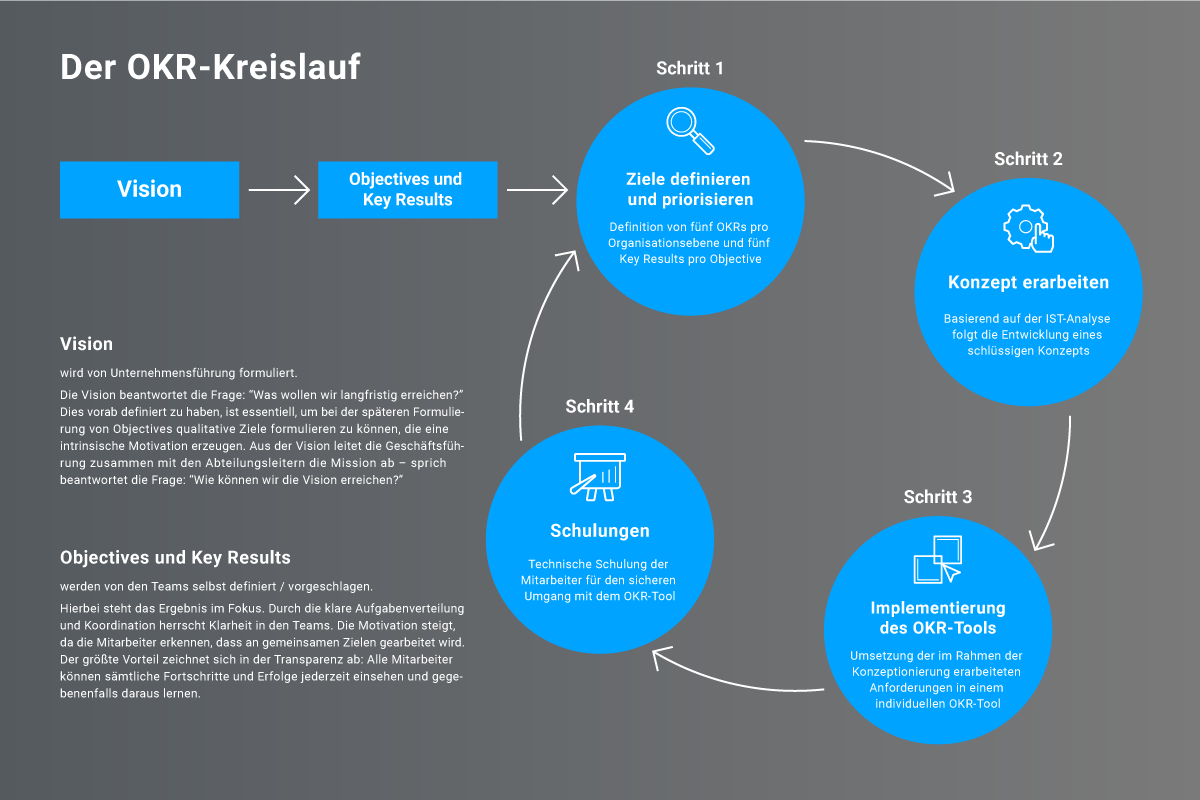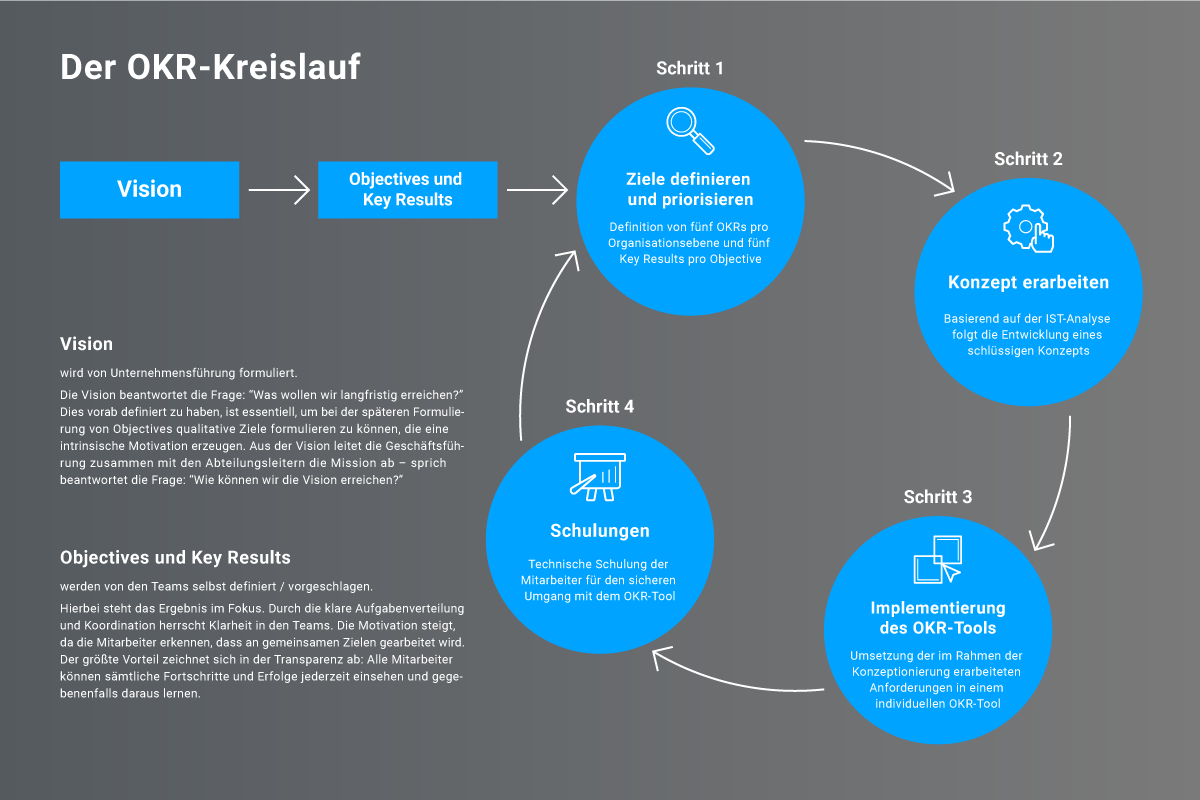 International heavyweights such as Google, Zalando, Twitter, BMW and LinkedIn have been using this method for years. A special advantage: behind OKR there are many timeless rules of target management that have proven themselves for decades.
An OKR tool helps to define the most important goals concretely and to communicate them clearly within the company. To this end, indicators are introduced that make the progress towards achieving the goals visible and measurable.
With OKR there is clarity for all teams and employees: Who is currently working on what and in which team? Through the close coordination of all teams within an OKR tool, resources are used sensibly and efficiency is increased.
Each employee recognizes how they are working towards a common goal. Every employee (if desired or justified) is involved in the planning of the goals – this in turn has a positive effect on motivation and commitment.
This is one of the greatest strengths of an OKR tool: Successes are visible for everyone and make their recognition possible. Employees can learn from their previous performance and develop further, as the goals and progress have been clearly documented. OKR orient, motivate and thus point the way to the achievement of objectives.
Which problems can be solved with an OKR tool?
The increasing speed of the VUCA world (Volatility, Uncertainty, Complexity, Ambiguity) forces companies more than ever to a clear strategic answer and orientation. What are the goals? And how can the individual employee contribute to achieving this demand? The OKR-Tool by MSO offers a simple and equally successful management system for target-oriented and modern leadership. The following challenges can be mastered with this method:
Introduction of the OKR tool together with MSO
MSO supports its customers in the technical implementation of an OKR tool in four essential steps. In addition to close cooperation with all stakeholders – e.g. external consultants, management and the responsible employees – all "levels" are involved in the entire process. Only through maximum transparency and appropriate training can MSO's consultants and software developers ensure that the widespread use of the OKR tool bears fruit.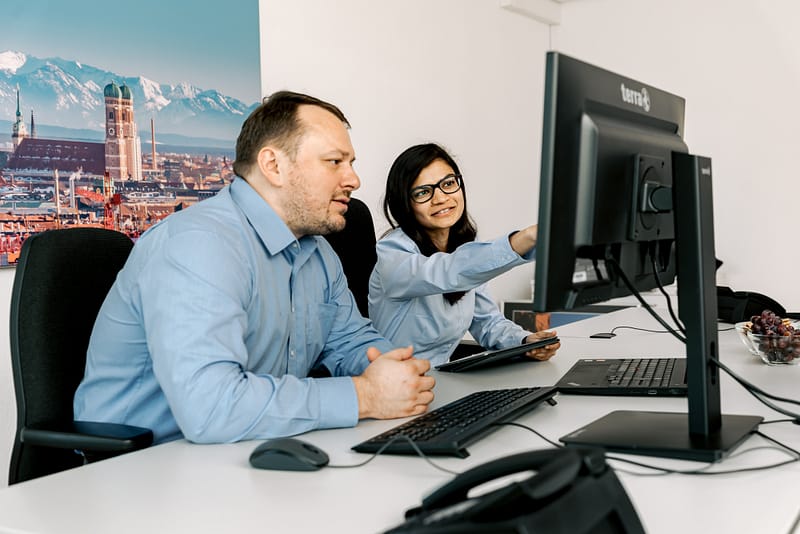 How is MSO's OKR tool used?
Step 1: Define and prioritize goals (customer)
Step 2: Develop concept (MSO & customer)
Step 3: Implementation of the OKR tool (MSO & customer)
Conclusion: OKR as basis for more agility
The decisive feature of the OKR-Tool by MSO is its transparency: Through the constant and open communication of the current degree of target achievement, a new motivation culture is created. OKR goals must therefore be set ambitiously. In essence, the aim is to lure employees out of their comfort zone and encourage them to take a risk. Of course, too many objectives and key results should never be defined in order to avoid excessive demands and demotivation.
In times of ever more flexible working models, increasing automation and growing pressure to innovate, the OKR method delivers a new level of focus, motivation, accountability and alignment towards goal-based management. OKR therefore promises more agility in itself.
With a corresponding OKR tool, you get a framework with many customization options that not only helps organizations with self-determined teams to organize their structures. How can this be achieved? By embodying agile values and principles, from enabling interaction and cyclical procedures to consistently demanding feedback and mutual reflection – and all this with just one tool.